About Industry Academia Interface at CGC Jhanjeri
As per our commitment towards the industry, we strive to set a strong interaction of our Institute with industry. By searching and understanding the industry needs and requirements, we have developed a deep insight which helps and guides us to make our students industry ready. With the help of a wide range of programs in the fields of Engineering, Management and Computer Applications delivered through a highly accomplished and experienced faculty, we ensure that our students are ready at the conclusion of the course for the respective industry. This is farther enhanced through many special initiatives such as Institute-Industry Interface, Pre-placement Training, Conferences, Seminars & lectures by experts from industry. These initiatives are implemented through CCPD (Centre for Career Planning and Development) which is continuously working in tandem with the corporate leaders to develop a deep bond between CGC and the industry.
Entrepreneur Development Cell (EDC)
EDC has been established with a view to provide fillip to the young and budding entrepreneurs. Regular programs are conducted for the volunteer students to create awareness as well as to sharpen their skills which are absolutely essential for success in entrepreneurial ventures. Experts from academia and industry address the students to coach, guide and enthuse them to turn there dreams into reality.
Management Development Projects
Management Development Projects are taken up frequently at CGC. These projects include training programs conducted for various companies, both at CGC as well as at there respective locations. Our MDPs are tailor made to meet the specific requirements of the companies and delivered with the professional touch to ensure effectiveness.
Attending Training
A vast reservoir of experts is available at CGC. We strive to undertake Consultancy projects not only in the field of Engineering but also in Computer Applications and Business Administration.These projects result in improved performance and production, efficient delivery and competitive pricing of the commodities/services by cutting down the wastages.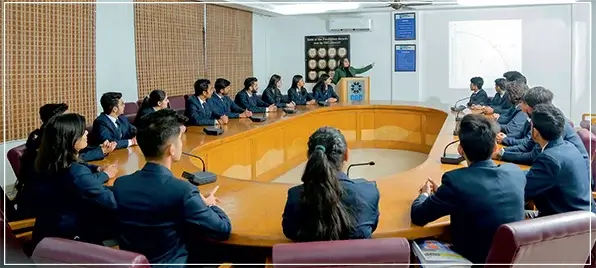 Latest Industrial Visit